Lovesick Weddings: Ultimate Posing Guide.
How to look rad on your wedding day (or engagement session, or whatever the hell you're shooting!)
WHY CLOSE TO 40% OF BRIDES HAVE REGRETS:
First off, I have to say that when I got into the wedding photography industry I didn't really know what to expect. I wasn't really a "wedding" kinda guy. I had little experience and no one to hold my hand… I kinda just jumped right in. I knew I wanted to be different, though.
It wasn't easy at first, but like with anything, you learn & hopefully you grow. You figure out what you like, but also more importantly what you don't like. What works with some couples might not work with others. You HAVE to be able to adapt. So many photographers take a one-size-fits all approach and it just DOESN'T WORK. This is a very personal, intimate industry… you have to be a great photographer, but you also have to understand what wants and needs of your individual client.
Nothing brings me greater joy than getting an email back after I deliver a newly-married couple their photos and they are gushing to me about how much they love their photos. It is a thrill I'll never get over. I try to do everything I can to make not only the photos great, but make your DAY enjoyable. Afterall, most people don't realize that your photographer is one of the few people you're spending the whole day with. It's important you and your photographer vibe well!
So with all that said it drives me insane when I hear wedding photographer horror stories…
"They got drunk at our open bar and the photos got worse as the night went on."
"My photographer hit on my bridesmaids all day!"
"They only captured photos of me and my husband… completely ignoring my family and friends. So disappointing."
But really.. 40% have regrets?? How can this be?
"They just really didn't know what they were doing… we kind of just stood there without any direction. It was awkward."
But FEAR NOT! I'm here to help! NO MORE BORING WEDDING PHOTOGRAPHY!!!
so why do so many photographers suck at it?
The Foundation of Posing:
1. The imaginary String: First, you want to make sure your spine is straight, but not stiff or unnatural. I often ask my couples to imagine there is a string on top of their head and they can't let it fall off.
2. Shoulders: push your shoulders one inch back. This makes you look more confident, and stronger.
3. Weight distribution: it might sound counter-intuitive, but we want your weight to look unevenly distributed, or else your pose will look unnatural. You can do this two ways: by crossing your legs one in front of the other, or put more weight on your back leg. Trust me, it works!
either by touch, or with a look.
BUT WHAT ABOUT POSING THE HEAD, EYES, AND HANDS?
Even though your wedding portraits are posed, you don't want them to LOOK posed. How do we make this happen easily and spontaneously? After all, most of you AREN'T PROFESSIONAL MODELS.
One of my main tips for this is the X-NOSE FACTOR.
What is this you ask? Imagine you have a line coming out of the tip of your nose and eyes. When posing with your fiance, you always want those lines making an X. Basically, this means you rarely want to look each other in the eyes. Why? Most of the time it looks forced and cheesy… which is what we want to AVOID. :)
add a hand to the face to add another layer of connection to your partner. bonus: show off that big ass ring.
if i need a spontaneous laugh, a quick whisper from your partner of something inappropriate or weird works every time.
one looking at the camera while the other gets weird.
also: despite what your momma told you, it's okay not to smile sometimes.
this is what we don't want to do.
OKAY, BUT YES, WHAT ABOUT MY HANDS AND WHAT ABOUT MY EYES??
okay. maybe not a cigar, per se. but when you hold something it naturally gives your hands something to do, and naturally brings attention to that object. this works fantastic for showing off your dress. also, having your elbow at greater than 90 degrees gives a more elegant pose, as well.
avoid the "floating head".
photographers who don't know how to pose the hands and arms, often give brides and grooms what is called the "floating head"… a closeup shot of the face, but no hands or arms in the photo.
avoid this by using the hands and fingers to draw attention to where you want in the frame… often, with brides especially—the eyes or lips.
notice how natural this portrait looks. not forced or rigid.
A FEW BONUS POSES BECAUSE I LOVE YOU AND YOU'RE COOL…
sometimes just a straight-forward, side-by-side stoic look makes for an iconic portrait.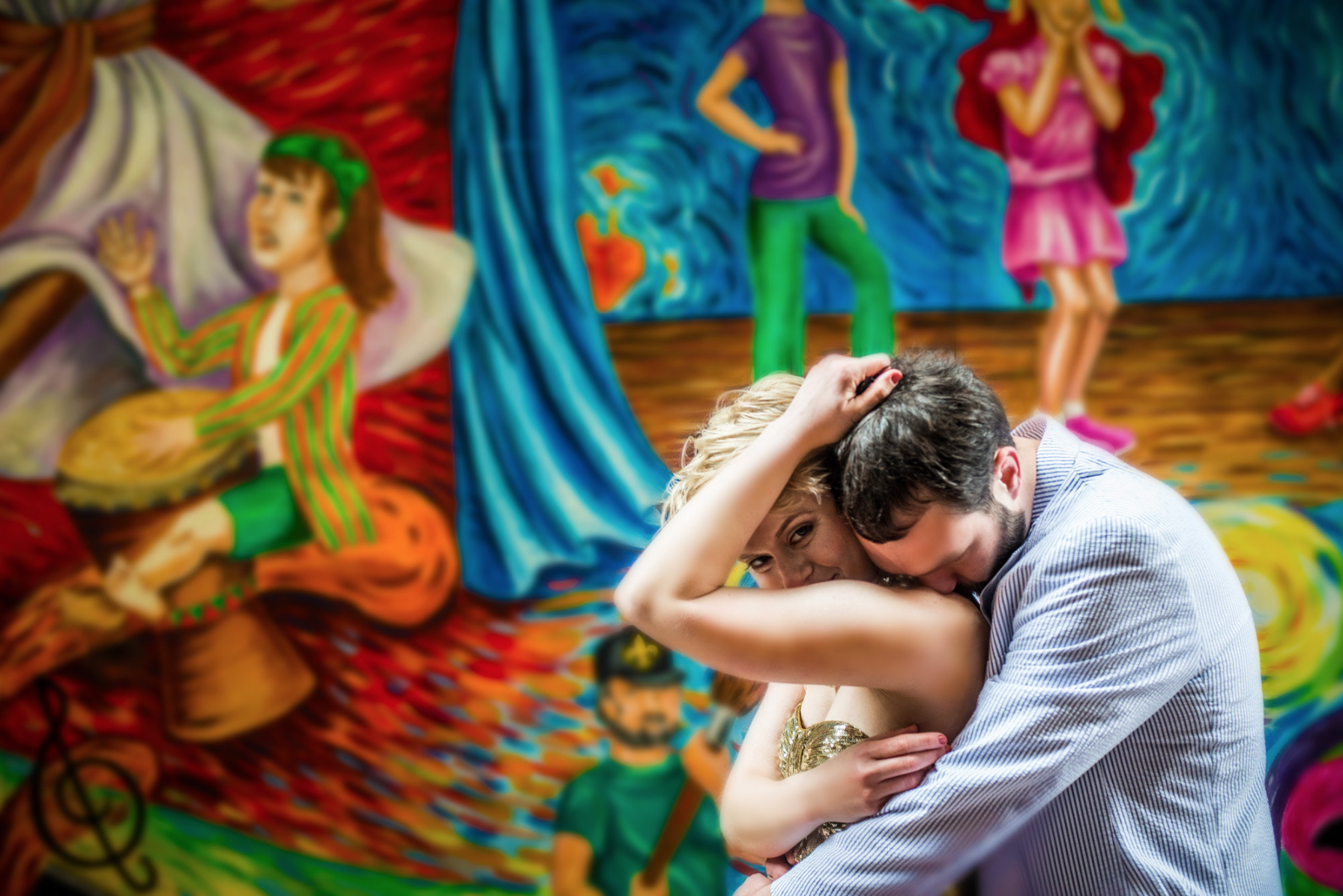 one looking off-camera, one on.
OKAY, OKAY… I think that's enough for today. I can't give away ALL my secrets. Lookout for more wedding pro-tips in your email in the coming days and weeks. And remember: F*CK BORING WEDDING PHOTOGRAPHY!